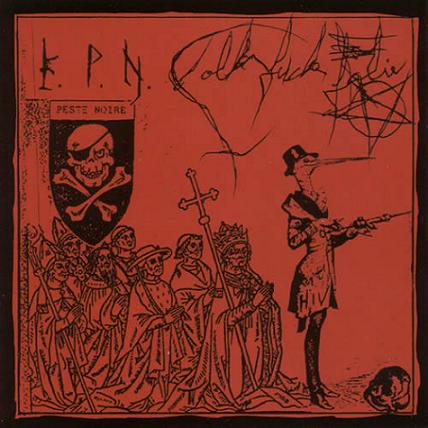 Peste Noire
is a
black metal
band from
Avignon
,
France
. It was founded by La Sale Famine de Valfunde in 2000 to express his hatred and despair and his passion for France in the Middle Ages. La sale Famine has been the main member and creative force behind Peste Noire since its inception, and, to date, all songs (lyrics, music and solos) were written by La sale Famine .The band is sometimes referred to as
P.N.
or
K.P.N
(
"Kommando Peste Noire"
).
Peste Noire was born in the mind of one La sale Famine de Valfunde who wrote all songs (except one), solos, lyrics, concepts for Peste Noire since its inception. The other members aren't involved in the song-writing process. The different artworks were also chosen by and built around the ideas of one La sale Famine de Valfunde.
Famine's French lyrics deal with evil, sickness, and madness, as well as Satanism. Famine himself said "P.N. is . . . indeed an extension of my inner self but not only. Above all else, P.N. is an extension of the Devil, its representation BY me. BECAUSE Satan enters into me, or BECAUSE He touches me from the outside, because in both cases I am brimful of Him . . . . Satan is the cause of my music, I am His means." [12]
Famine's vision of Black Metal is also based on nationalism as Peste Noire is proud of French cultural heritage, especially medieval France. Famine took some lyrics from medieval French writers such as François Villon (for the song "Ballade cuntre les anemis de la France"), Christine de Pisan (for the song "Dueil Angoisseus") and Guillaume de Machaut (for "Amour ne m'amoit ne je li") and from modern writers, such as Charles Baudelaire ("Le mort joyeux" and "Spleen"), Paul Verlaine ("Soleils couchants"), Tristan Corbière ("Paysage mauvais"), and Robert Brasillach ("Psaume IV"). They have been called[weasel words] a national-socialist band but Famine said they were French nationalists: "I am a nationalist, not a socialist... My two nations are : France d'Oïl and Hell."
Famine further explained why Peste Noire's concept is based on nationalism when he stated "Black Metal is the musical memory of our bloodthirsty ancestors of blood, it is the marriage of Tradition, of old racial patrimony with fanaticism, with the rage and the rashness of a youth now lost. It is a CHTONIAN religion: a cult of the EARTH and a return to it, therefore a nationalism; a cult of what is BELOW the earth: Hell — the adjective "chtonian " applies to the Infernal gods as well. BM is a fundamentalism, a music with integrity (from latin integer, complete) which helps me to remain complete in a dying world, amidst a people in decay, unworthy of its blood. It is the apology of the dark european past. It is a psychosis which helps us to flee a reality we cannot tolerate anymore."
Peste Noire, has always rejected the exposure of their music on the internet. There has never been any official P.N. website, nor any official P.N. myspace page. Two "fan myspace pages" currently exist (
www.myspace.com/pestenoire
and
www.myspace.com/pestenoiremetal
) but they are in no way official as they go against Famine's vision of BM.[14]